Authentic beef rendang recipe is a typical Minangkabau food recipe which is famous for its savory taste, delicious with special spices. This food is cooked for a very long time, usually about 4 hours over low heat. So that the rendang meat is softer in texture, and the spices are perfectly absorbed into the meat.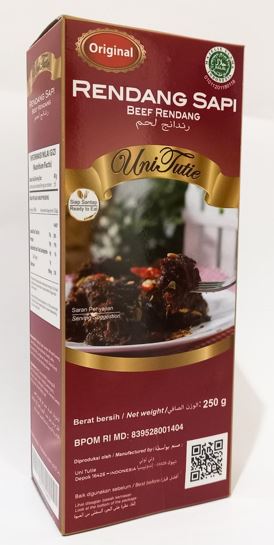 Authentic Beef Rendang Recipe
Authentic beef rendang recipe is often sought after, especially during Eid or Eid. This dish is loved by almost all Indonesian people, to foreign countries. Here is the original beef rendang recipe:
Materials
1/2 kg lean beef
1/4 kg thick coconut milk
10 shallots
5 pieces of garlic
1/2 ounce curly red chili
1 cm ginger
1 cm of bruised galangal
1 tsp coriander
2 lemongrass stalks geprek first
2 seeds kandis acid
2 lime leaves
3 bay leaves
1 sheet of turmeric leaf
Salt to taste
How to Make Real Beef Rendang
After that, finely chop all the spices then blend until smooth.
And if necessary add about 50 ml of coconut milk to facilitate the crushing process.Mix the meat with the spices that have been mashed, put it in a large skillet.
Pour coconut milk, add lemongrass, kaffir lime leaves, kandis acid and turmeric leaves.
Make sure that you cook on medium to high heat until the coconut milk boils.
Do not forget to use medium heat, cook for 1.5 hours in a closed state until the oil comes out. Stir occasionally.
Taste, add salt to taste.
Reduce the heat again, cook while continuing to stir until the coconut milk dries up and the oil is absorbed by the meat. (About 0.5 hours)
Serve hot with rice.
Tips for Making Real Beef Rendang
If you want blackish rendang, add roasted grated coconut that has been finely ground and the oil comes out. Add roasted coconut at the time of heating 0.5 hours.
Squeeze the coconut milk with a clean napkin so that all the coconut milk comes out.
Making rendang takes a long time, which is approximately 4 hours.
Don't use sugar to make it taste authentic from Minangkabau.
All spices must be ground, including ginger and galangal.
The difference is, the addition of this spice, for example in Padang, usually uses turmeric. While in other Bukit Tinggi, in this dish generally there is additional candlenut. In addition, there is also a recipe for rendang which is the result of mixing and assimilation from all these areas and still added cinnamon, cumin, deaf and even cloves. So adjust to your taste.
Mandatory spices in making rendang are shallots, garlic, ginger, galangal, red chilies, turmeric leaves and kaffir lime leaves. However, you need to know that in its manufacture, the Minang people add other spices.
As for the addition of spices or other spices depending on the region and customs. Each region has its own variations of additional spices. You can buy this original beef rendang via WA https://wa.me/6281286059255 or on the website https://rendangunitutie.com. And you can also visit the restaurant at Grand Depok Residence, Blok Anggrek No. 109 Tanah Baru Beji Depok – Indonesia 16426.
Read : rendang is