Do you plan to cook Rendang? That will be quite challenging. If you take a look at thebeef rendang recipe indonesian, you can find various spices and herbs in its ingredients list. So, here, we will show you the recipe of authentic Indonesian beef Rendang.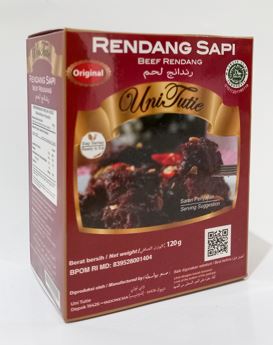 Ingredients
Main Ingredients:
Beef (1 kg),
Coconut milk (600 ml),
Vegetable oil (100 ml).
Blending Ingredients
4 candlenuts
12 cloves chopped garlic
300 g red chili, , (Serrano chili/pepper)
250 g onions
50 g ginger
50 g galangal
25 g ground turmeric, or 50g of fresh turmeric
1½ tsp ground coriander
1 tbsp salt
1 tsp sugar
4 green cardamom pods
11/2 tsp cumin seeds
10 cloves
Spices and Herbs
4 stalks lemongrass (bashed and remove the green section. Use only the white portion),
3 pieces kaffir lime leaves
1 piece asam keping
2 turmeric leaves, tied up
Cooking Instructions Beef Rendang Recipe Indonesian
Here is the cooking instruction for this authentic beef rendang recipe indonesian.
Cut the beef into dice shape with 4 cm size and set aside.
Blend the Blending Ingredients, set them aside.
Saute the Blending Ingredients using low heat.
Add the Spices and Herbs, plus the rest of the main ingredients in it.
Once it produces a nice aroma, add the beef.
Let the coconut milk boil and continue until its color turns dark brown and coconut milk is greatly reduced. (it takes approximately 3 hours)
Serve while it's hot.
It is indeed challenging. But, this beef rendang recipe indonesian is a must-try recipe for you who love cooking. You may also use an instant pot or pressure cooker to cut down the cooking time. So, try it now and enjoy the authentic Indonesian Rendang.
You can order Rencang UniTutie in market place, please visit the website or you can order us via whatsapp.